November 1-5, 2021
$0.00 - Free Registration

Meeting begins daily at 10:00 a.m. EST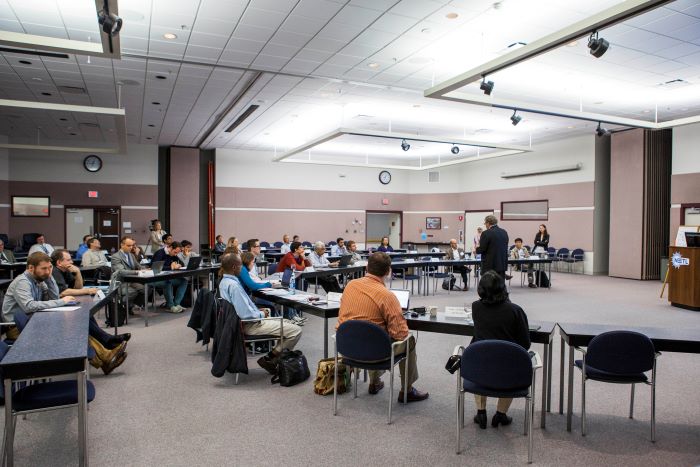 To target the goal of building a carbon pollution-free electricity sector by 2035, the nation will need a surge in technology development and innovation this decade to decarbonize the U.S. power sector. Advanced fossil generation assets featured with carbon management are required in future integrated energy systems to better support increased deployment of variable renewable generations.

The sixth LEAP workshop will be held by the U.S. Department of Energy, National Energy Technology Laboratory (NETL), with a focus on the transition to net-zero carbon and the associated technology development. The workshop is composed of a three-day section "Advanced Systems Integration" focused on integrated energy systems and a two-day section "Cyber-Physical Modeling" focused on merging numeric and hardware simulations to develop cyber-physical models for accelerating technology development.
 
The goal of the "Advanced Systems Integration" section is to review and discuss integrated energy systems technology development, which will support the transition to a net-zero carbon energy sector, by promoting dialog among the leading international researchers from national laboratories, industry, and universities. The purpose of the "Cyber-Physical Modeling" section is to bring together the academics, national labs, and industry to explore how cyber-physical systems can be used as a modeling tool in energy system development, design, and deployment; identify the opportunities for cyber-physical modeling of energy systems, and define the infrastructure, software, and components needed.
 
This workshop will be accomplished through working sessions where ideas can be evaluated throughout the meeting. In lieu of traditional presentations, attendees will be encouraged to share their technical expertise through an interactive format. Information content in presentations and discussion, including technology barriers and potential solutions, will be made publicly available. Key conclusions from the workshop are anticipated to be published in a technical note.
 
Advanced Systems Integration

Cyber-Physical Modeling

PDT


(Pacific Daylight Time)

EDT


(Eastern Daylight Time)

CET


(Central European Time)

 

Monday
11/01/2021
Tuesday
11/02/2021
Wednesday
11/03/2021
Thursday
11/04/2021
Friday
11/05/2021
7:00AM
-8:30AM
10:00AM
-11:30AM
3:00PM
-4:30PM

Session 1




Goal net-zero

Session 4




Microgrids

Session 7




Paths to Commercialization

Session 10


An Introduction to
Cyber-physical Modelling

Session 13




Intelligent, Reconfigurable, Adaptive Energy Systems  

9:00AM
-10:30AM
12:00PM
-1:30PM
5:00PM
-6:30PM

Session 2




Renewables and Integration 


 

Session 5




Thermally/Chemically Integrated Systems 

Session 8




Controls Development for Energy Systems

Session 11




Cyber-physical Modeling and Energy System Design 

Session 14




Report out & Open Discussion 

11:30AM
-1:00PM
2:30PM
-4:00PM
7:30PM
-9:00PM

Session 3




Transition Cost and Impact

Session 6




Dynamic Performance

Session 9




Open Discussion and Conclusions

Session 12




Building Cyber-physical Energy System Models 

 

WebEx Information

Thursday, November 4, 2021
Friday, November 5, 2021
Open-to-the-Public Meeting
Before we get started today, I have some DOE security requirements to fulfill by telling everyone here this meeting is considered "open- to-the-public."
That has a specific meaning for DOE to include both our federal employees and members of our site support contractor community.
It means the purpose for this meeting has been examined during the planning stages, and NETL has made some specific determinations that affect our attendance.
All information presented at this meeting must meet criteria for public sharing or have already been published and available in the public domain or expects the material to be made available soon after the conclusion of the proceedings.
Please do not communicate information that is considered official use only, proprietary, sensitive, restricted or protected in any way during the presentations or during any sidebar or casual conversations.
Foreign nationals, who may be present today, have not been approved for access to DOE information and technologies.
For NETL personnel here today, the "open-to-the-public" designation does not remove your obligation for personal reporting, if warranted. The usual rules apply in that regard.
For general inquiries about the program content please feel free to contact:  Nana Zhou  -  email:  Nana.Zhou@NETL.doe.gov
For Technical support please feel free to contact:  Karen Blaney – email: Karen.Blaney@NETL.doe.gov